---
---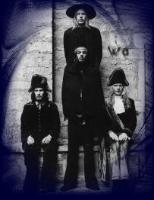 In late Autumn 1971, the art student Jürgen Dollase founded a rock band called Blitzkrieg joined by Harald Grosskopf (drums), Jerry Berkers (†) from Holland and Bill Barone from USA. The provoking band name (from a German point of view) was changed later by Dollase for legal reasons, because the name were already used by an English rock band. Wallenstein was born, named after the famous general from the 30 Years War.1
Just before the end of 1971, Wallenstein produced the first four music themes at Studio Dierks in Stommeln, near Cologne. This record was called "Blitzkrieg" according to the former band name.
Six months later, in early Summer 1972, Jürgen, Bill, Jerry and Harald recorded their second album "Mother Universe", the cover of which was decorated with a photograph of Dollase's Grandmother taken by Harald Grosskopf. The French pop magazine BEST honored "Mother Universe" as "LP of the month" with the statement: "Wallenstein's music is unique. They succeed in finding a synthesis of pure, melodic music and hard, brutal rock and inconceivable feelings bordering on madness."
Jürgen Dollase, Jerry Berkers, Harald Grosskopf, Bill Barone
In Autumn 1972, Jerry Berkers left Wallenstein and performed solo only. He also released a solo album UNTERWEGS (joined by Barone and Dollase) with its best songs "Ich klage an" and "Seltsam". Some very haunting lyrics on the song "Ich klage an" (English: I accuse) might stem from his time in Vietnam. During the recording session of this solo album, Jerry went insane and was taken to a psychiatric hospital. He died under tragic circumstances six or seven years ago.
After the release of "Mother Universe", Wallenstein toured as Trio - without Berkers - in Switzerland and France (with shows and a make-up like Alice Cooper), followed by TV appearances in French, Austrian and Switzerland. Through several broadcastings ("Klatschmohn" & a 70 minutes special by WDR), Wallenstein also became famous in Germany.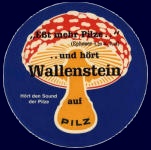 From Mai until August 1973 Wallenstein's bass was played by Dieter Meier (†), then Jürgen Pluta joined the band. In June, a new Wallenstein member was added: Joachim Reiser (violine). Wallenstein performed live with Reiser and Pluta on German Rock Festival in Krefeld, 16 September 1973. In same year, "Cosmic Centuries" was released, the third Wallenstein record and their first work as so-called "Symphonic Rock Orchestra".
After a long break, Wallenstein produced as last group on the Label Kosmische Musik the album "Stories, Songs and Symphonies", on which Jürgen Dollase tried to realize his ideas of "Programmusic", but the disharmonious mix of Classics, Jazz and Rock was badly received.
In 1975, Bill Barone and Harald Grosskopf left Wallenstein. Bill went back to the USA, and Harald sought for new challenges. Harald met Klaus Schulze in Hambühren, the beginnung of a very successful collaboration until 1978 (see Harald's RECORDS).
With new members Gerd Klöcker on guitar and Nicky Gebhard on drums, Wallenstein toured very successful in France. In Spring 1976 violinist Joachim Reiser also said Good Bye and Wallenstein felt in silence for a while.
Musically changed, Jürgen Dollase (keyb), Gerd Klöcker (git), Jürgen Pluta (bass) and Nicky Gebhard (drums) toured through Germany and performed at Deutschrock-Festival in Krefeld. A new album "No more Love" was released at the same time. After a concert in Hildesheim (native town of Harald), Jürgen Dollase released all teammates, preparing a new musical style.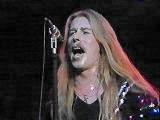 In 1978, Dollase set up a new crew and recorded the LP "Charline". This album made clear, that Wallenstein had decided for the commercial way of mainstream rock, with simple melodies and songs for several voices. The new Wallenstein crew as well as the current repertoire was introduced for the first time to public in Mönchengladbach Kaiser-Friedrich-Hall on 10 November 1978. The live act at the Sound and Music Festival in Dortmund on 7th of December was recorded by the WDR and broadcasted in the TV show "Rockpalast" on 27.12.1978.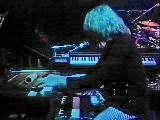 After a tour in Spring 1979 and a "Disco" appearance, the track "Charline" became a hit and climbed place no. 17 of the German pop charts. Due to the single success, Wallenstein gave more than 200 concerts including a TV appearance in the "scene". The LP "Blue Eyed Boys" followed in October and was a commercial success, too. The single release "Don't Let It Be" sold more than 100.000 copies.
For the beginning of 1980, Wallenstein signed a contract with the record company EMI and released their album "Fräulein" in March. The band introduced their new song material on a big Germany tour and visited (together with the Scorpions) the Benelux countries, France, Austria and Switzerland. In the meantime, the guitarist Pete Brough discharged to get married in South Africa with a member of the girl band Clout.
The single "Lady in Blue" released end of 1980 became a first flop. The new album "Sssss...top" even though more rock orientated and mostly excellent performed could not avoid a waning interest by the listeners, too.
From March to June 1981, Wallenstein went on tour the last time. Then the band was swept away as many others by the upcoming New Wave. "Nothing doing with English lyrics", Jürgen Dollase recognized. Attempts with German texts kept in reserve. End of 1982, the Wallenstein chapter was closed.
__________
1 After more than 30 years, the original as well as the changed band name seems to be misunderstood until today. Harald Grosskopf about the provoking band name and album title:
"Blitzkrieg" (German for: Lightning War), was the original name of the Classic Rock band "Wallenstein". These rather martial terms already caused indignant reactions with our full intention at the beginning of the Seventies. The term "Blitzkrieg" was used by Adolph Hitler for his barbarian raids on our neighbouring countries Poland, Netherlands, Belgium, and most of all, France. We musicians were no fans of that people killing Nazi chauvinism, of course. A few of us (including me) have been conscientious objectors and therefore objectors of worldwide militarism (particularly with regard to the German one, because of the enmeshment of our parents). My father was present as a 22 years old soldier, when the German Wehrmacht attacked Poland on 1 September 1939 in violation of international law.
Therefore, we had the idea to turn the tables by using the international known term "Blitzkrieg". We attacked our unloved, unteachable, and history-faking parents' generation like lightning (war) with noisy, provoking music and English lyrics. Just using a "non-German" language was unbearable for our folks. Then we put the lid on the whole thing by using a term of which the most of the Nazi generation were proud.
Later we heard that an English rock band claimed that martial name and even used it verifiable earlier than we did. In order to avoid legal trouble with our record companies, we renamed us into "Wallenstein" without further ado. However, the name of the famous warlord from the 30 Years War during the 17th Century also gave occasion to discussions at the beginning of the Seventies. We were interested in Wallenstein's contradictory character and his vehement revolt against temporal and spiritual authorities, what he finally paid with his life. We also rebelled against this Nazi generation with all our strength – mostly in a pacific way. Therefore, Wallenstein's character had a little bit of our heroes Rudi Dutschke or Benno Ohnesorg at that time.
Dutschke, a high intelligent radical head and leader of the German student movement (APO) in 1968, died years later after an assassination attempt on his life on its consequences. Ohnesorg, a young student, was shot by a police officer in front of the German Opera in Berlin during a demonstration against Muhammad Reza Pahlevi. Pahlevi, Shah of Persia (Iran), financed by the CIA and idolized by the German boulevard press, was a notorious tyrant. His dissipated luxury career ended with the Iranian revolution of Ayatollah Khomeini. (Harald Grosskopf)
---
---
Blitzkrieg
(1972)

Mother Universe
(1972)

Cosmic Century
(1973)

Stories, Songs and Symphonies
(1975)

No More Love
(1977)

Charline
(1978)

Blue Eyed Boys
(1979)

Fräuleins
(1980)

Sssss...top
(1981)
---
---
A Story by Harald Grosskopf
In October 1970, after finishing my civil service, working at several hospitals to substitute military service, I went back to my parent's home and decided to make music for the rest of my life. In the meantime, I became a hippie, wore my hair in shoulder-length, smoked grass and consumed several other illegal substances. After I had stayed with my parents for two weeks, I moved out and shared a little house with some Hippy freaks and drug heads. There were mostly wild and chaotic situations in that little house. One day , one of my companions brought two guys from Rhineland to that mad place.
Their casting appointment with a drummer who was supposed to play for them had failed. My companion had told them he knew a drummer (me) and a place to sleep. It seemed these fellows liked me, but I could not prove my drumming technique to them because my drums were just broken during one of those countless wild, spontaneous LSD music sessions in the house.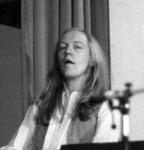 One of the guys introduced himself as Jürgen Dollase. He wore his blond hair shoulder-length like me and seemed to be a strange person. He was studying painting at the art academy in Düsseldorf and his self-confidence seemed boundless to me. Many things he talked about I took for showing-off, but I was interested in getting on and jumped at the opportunity. [...]
Jürgen Dollase, who was a year older than me, played bass and keyboards and was making big plans. An LP should be recorded in near future, radio appearances and interviews were already organized. Therefore, I packed my gear and left home. During the ride from Hanover to Rhineland, they told me about their gifted guitarist, called Wolfgang Steinicke, who was a great musician indeed and together with Jürgen Dollase, he formed the band, called "Blitzkrieg", what seemed to be a very provoking name for a German band from my point of view.
Except Sunday, we rehearsed every day the week, six or seven hours running. The complex and extensive program sequences required my full attention, because I was unable to read music at that time. A major part of my techniques I owe these intensive rehearsals.
Jürgen accommodated me at his parents. His father had been a principal of a secondary school. The older brother of Jürgen, Rainer, had been a doctor of psychology and was on his way to become a professor. He saw that I could do something for living with my drawing talents. He gave me opportunity to illustrate one of his literary publications about child psychology. I am grateful for this support until today.
My bedroom was the latest room in this kindly one-family-house: the cellar storeroom. A camp bed was put at my disposal and I was satisfied. This way I should easily get over the short time until the international breakthrough, not being accustomed to do anything for living. I had not a penny to my name, but I was not worried about that. When the international breakthrough failed, I had to get ready to leave the family shelter. I was very grateful for the hospitality that I received for those two months.
An one-room dwelling was found for me in Mönchengladbach. Up to my moving in, the dwelling served as accommodation and dressing room for striptease dancers and bar women, who earned their living costs in the "Sahara Bar" in the front building. A friendly man lived in the apartment over me, who occasionally went on "vacation" for some months, as his girl friend told me every time. Sometimes his shower was broken, and so he came down to ask me, if he could use my shower instead, what I never refused him. He seemed to live from small trickeries, which he practiced together with Peter G. the owner of the "Sahara Bar".
Once Peter rushed into my room early in the morning, after he had wildly struck against the down-pulled shutters several times. Breathlessly he told me that they just gave the slip to the police during one of their monkey businesses, with which they had clipped a carpet depot for contents.
Peter had been an enthusiastic fan of Borussia-Mönchengladbach, German Champion in 1971/72, and was one of those people, who had no scruple to throw insolvent guests including doorframes out of their dubious establishments. This man should be our manager from now on. Sometimes he borrowed our tour bus for his nightly ventures. Up and then a fierce fight flared up between Peter and my neighbor in the middle of the night. I hardly dared to breathe. On the other day, nothing seemed to be happened between them. [...]
Peter owned a big, green-metallic Mercedes 280 E in which he drove us at break neck speed to the gigs. He had the rather unpleasant habit of turning back and talking to us during driving. Two of his cars he had driven to scrap at similar opportunities, thank God without us. The only income I had at that time was 10 or 20 DM unwillingly given by Peter. Apart from a demeaning feeling, it was very difficult to manage with so little money.
Peter got in touch with some record companies. However, Wolfgang Steinicke our guitarist did not want to start a musical carrier having the intention to study mathematics instead. I was very disappointed as we heard from his girl friend he was on the point of leaving. 30 years later, thank the internet I had a first personal contact to Wolfgang again. He was a friendly man that was successfully involved in astronomy science, writing books and running an institute for environmental care in Freiburg and still making music.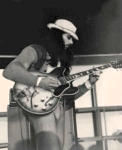 Some weeks later, an Italo-American was brought, who was wearing a full beard and long black hair and introduced himself as William (Bill) Joseph Barone. Bill should be accommodated into my one-room dwelling, which did not please me at all, because my girl friend Pirjo had come to Germany in the meantime and lived with me for months. Since the dwelling belonged to Peter, I could raise no objections. Therefore, I had to make the best of this situation. Bill was asthmatic and in addition an early bird. Each morning he lay in wait for us. As soon as we opened the eyes, he presented his favorite records untwisting the loudness up to the stop. This ritual was repeated each morning, day by day, sometimes Jefferson Airplane and Steppenwolf then Steppenwolf and Jefferson Airplane, over and over again until I got sick and tired of it.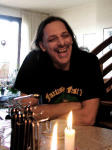 In order to postpone the inferno for a while, we often feign sleep. When I listen to these records today, I get a strange feeling similarly with "Barbara Ann", a Beach Boy song that was boring me the same way during the breaks of my first performance ever. Within short time, I learned to swear in English and understanding Philadelphia Ghetto slang. I spoke more English than German. In the tightness of the situation, I could acquire a good knowledge of English.
As the same time as Bill, Jerry Berkers came to us during our scouting for replacement of Wolfgang Steinicke, who had left. Jerry, whose real name had been Ger Berkers as I recently learned, was born in Brunsum in Holland. He was a guitarist like Bill. Although we had already decided for Bill as guitarist, we were going on to keep Jerry because of his special voice and asked him if he would play the bass instead. So he did a while with highly musical and technical quality.
Jerry had already been strange during the Wallenstein days. All I knew about him was the fact he had toured in a show band with go -go girls through Australia in 1970/71. There he was engaged by an officer of the US-Army to perform with his band for the GI's in the frontline. All musicians in this band were just about 18 or 19 years old and obviously green enough for having no ideas what was coming up to them.
Jerry's voice was very exceptional, gloomy and lyrical. This voice can be particularly heard on our album Mother Universe. Jerry wearing a full beard and half-shortened dark hair was a good-looking friendly young man, who had no difficulty in getting attention from girls.

At the beginning of the Seventies, we made many improvised music sessions titled "The Cosmic Couriers" at Dieter Dierks studios in Stommeln, a village near Cologne. During these sessions, we commonly dropped LSD. The record company OHR was interested in making a solo album with Jerry and asked him to work on lyrics. At that time, Jerry's habit started to change. He retired more and more, and became strangely serious and reserved. In the first instance, we thought he would need more time to finish these album texts.
One day he told me about his experiences in Vietnam. Some of his descriptions I still remember today. I had been a conscientious objector and pacifist, and therefore I was shocked, that Jerry had already made those terrific experiences in his young life during a real war. Up to then, I had known the war only from newspapers. Jerry reported on usual transports of band equipment on big platforms, on which the complete stage back-line was fixed. The musicians as well as the stage were completely taken to the soldiers in frontline by helicopters or heavy trucks. Partly the frontline lay in the deepest jungle. Jerry had to experience that the Vietcong often shot at these transports with light and heavy weapons including all its consequences such as dead and casualties. One of the Go-Go girls standing next to Jerry was shot by a sniper during a gig. All musicians were friends, and became even closer by those dangerous situations. That fact must have a lasting effect on Jerry. Another time his jungle accommodation was shelled by tank fire all night. Jerry was scared to death for twelve hours.
I am quite sure these experiences penetrated deeply into his soul shocking and confusing him. Obviously, his experiences became real again by LSD consume. We were too young to recognize the warning signs and inexperienced in order to help him. Jerry let himself go more and more and spoke confused. He hung around with heroin junkies and slept in the open. Once he looked at me sadly and said, "Harald, I am dying!" Then he disappeared a while.
One day he appeared at Jürgen's parents at 3 o'clock in the morning and asked them if they could pay his cab, that brought him from Aachen where he had ridden a bicycle a couple of days before. Making music in our band became more and more emotional on his part. During a gig in Hamburg, he disappeared at a break for three days. Later he told us his face had been overflowed with blood. He became more and more unpredictable for us, so we had to look for other bassists. Later Dieter Meier became his successor, who had a sad story, too. Jerry's album UNTERWEGS was released on OHR label. Then we lost contact. Later I learned his parents had taken him into a mental hospital in Holland. A couple of years later, I met him in a scene pub in Mönchengladbach the last time. He was wearing a suit, had cut his hair, and the beard shaved. His behavior seemed strangely reserved by psychopharmacologic drugs. Six or seven years ago, Jerry was found dead in a park in Holland, overdosed on cocaine.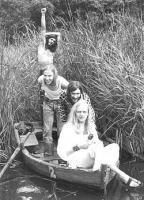 We had a gig with Blitzkrieg at a huge festival in Landshut. This was my first time I stood in front of 10,000 people. It rained strongly and we were afraid of getting deadly electric shocks. Some famous musicians died in this way. Singers are particularly endangered, if they touch a microphone standing under electric current with the mouth, followed by guitarists and bassists, who can get the deadly shock by touching the wet strings. I was only anxious about the damage which water can cause to a wooden drum kettle. We played well and got record contracts one by one.
Forwarded by Peter, we had our first successes. We played frequently and had temporarily a good income. There were articles in all music magazines, which were not very numerous at that time, of course. Even the MIRROR wrote about us in its cultural part. Unfortunately, Peter was a very impatient person. He had started from the assumption that he would bring us up there within shortest time. After we had to change our band's name from "Blitzkrieg" into "Wallenstein" in order to avoid trouble with the same named English rock band, Peter threw in the towel.
We got a contract with OHR Music. All notable musicians were on this label, e.g. Tangerine Dream, Amon Düül, Ash Ra Tempel, Klaus Schulze, Popol Vuh, Guru Guru, et cetera. The producers Rolf-Ulrich Kaiser and Gille Lettmann got in touch with Professor Timothy Leary, a psychologist who had been sacked by the Harvard University since he was making LSD experiments with his clients. These experiments had been legal at the very beginning. Apart from that, no one knew the effects of LSD at that time. Owing to his literary publications, he became a legendary figure in the hippie scene.
After LSD was rated as illegal and prohibited, Timothy Leary was more and more politicized, supported by many people. Having propagated the exit, he finally became dangerous for the so-called "American Way of Life" and Nixon called him the "most dangerous man in America". "Turn on, tune in, drop out", was THE slogan in those days. Timothy Leary had been on the run from CIA for years. Leary, the worlds LSD Pope, got asylum in Switzerland, where he met the man who discovered LSD and its psychological effects, Dr. Albert Hoffmann. LSD was produced in the labs of some Swiss pharmaceutical combines in the Sixties and experimented on Hoffmann himself. Later the Swiss government refused to continue asylum and so Leary fled to Afghanistan, where he was arrested at the airport, handed over the Drug Enforcement Administration, and finally jailed for having some dollars worth of pot.
Those labs were the sources the smart drug came from, which was consumed by us just before throwing ourselves into musically adventures during several Cosmic Joker sessions. Some of the stuff that was partly released later was musically bad, but I remember some fantastic musical events. Most of this material has never seen daylight and must be rotting in Dieter Dierks' cellar.
At that time, I discovered my love for electronic music. Wallenstein started boring me. The feeling for each other was unsettled by factionalism. We had released four albums until 1975. The sales figures decreased and the project tended to slide into mainstream. Then I left and sold my drum kit. Charly Terstappen, who drummed later with Marius Müller-Westernhagen, became my successor. Later Wallenstein succeeded in getting a commercial hit with single release Charline.
Written by Harald Grosskopf, 1995 & 2005
---
---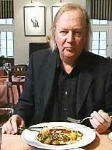 Jürgen Dollase turned back to his other creative roots (i.e. painting), after the Wallenstein chapter was closed and he had stopped making music for the rest of his life. Jürgen, who had been a fast food freak for a long time, turned into a gourmet over night. His cooking art is more than fantastic. Today, he writes food critics for "Frankfurter Allgemeine Zeitung" (FAZ) and "Feinschmecker". He has been part of Germany's leading gourmet critics for a couple of years. In 2004, he was a guest in the German television ZDF in the show "sonntags".
Joachim Reiser is still living near Mönchengladbach and works as a Lecturer in Violin at the Mönchengladbach Music School. In the middle of the Eighties, he founded a rock string orchestra, for which he also wrote the most songs. Some of these songs were released in musical publications by publishing companies Schott and Tonger. Apart from that, he produced many CDs, which are not available in commercial way.
Jerry Berkers already left Wallenstein in autumn 1972 and performed solo only. During the production of his first solo album, Jerry went insane and his parents must take him into a psychiatric hospital. It seems that his terrible Vietnam experiences became real again by LSD consume, when he wrote the song lyrics for his album. Jerry overdosed on cocaine and died in a park in Holland six or seven years ago.
Dieter Meier tragically died as the result of heavy alcohol abuse in a hospital at Mönchengladbach in 1986.
Bill Barone went back to the United States after his split from Wallenstein. Today he lives in Philadelphia and works with Caterpillar . In the USA, he played in several regional bands for a while and had some better performances (i.e. with Chuck Berry in 1977). After a long break, Bill and Harald get in touch after more than 20 years via internet. Bill visited Germany in 2003 and 2004 and met old band colleagues.
Jürgen Pluta has produced for many years with DJ Hooligan for the Project Da Hool. At the end of 2008 they released their album "Light My Fire". 4 singles reached the top 20 of the German Dance Charts (DDC), the single "Light My Fire" even ranked # 1. With Da Hool he travelled to Spain, Great Britain, Ukraine, Russia, Netherlands, Czech Republic, Estonia, etc.
Wolfgang Steinicke, who was an original member of Wallenstein and later replaced by Bill Barone, left the band at the beginning of the Seventies to study mathematics and physics in Freiburg. Today he runs a bureau of environment investigation (www.klima-luft.de), writes and releases books about astrophysics and gives many lectures on that theme worldwide. Besides, he works as a secretary in the committee of Vereinigung der Sternfreunde e. V. (VdS).
Jürgen Pluta, Harald Grosskopf, Bill Barone, Joachim Reiser
during a meeting of the former band members.
---
---
Musicians:
Harald Grosskopf
www.haraldgrosskopf.de
Nicky Gebhard
www.nicky-gebhard.de
Pete Brough und Kurt Schmidt (alias Terry Park) / Dead Guitars
http://www.deadguitars.com/

Germany:
Taurus-Press:
http://www.taurus-press.de/rockd/IW03.html
Rockpalast-Archiv:
www.rockpalastarchiv.de/concert/wallenstein.html
Prog Reviews:
http://www.babyblaue-seiten.de/~review

United Kingdom:
Gibralta Encyclopedia of Progressive Rock:
http://www.gepr.net/w.html
Gnosis Reviews:
http://gnosis2000.net/reviews/wallensteininfo.htm
Prog Archives:
http://www.progarchives.com/~id=2800

Czech Republic:
Music archiv M+S:
http://musicpages.webz.cz/data/classrock/wallenstein.htm

France:
Neospheres:
http://neospheres.free.fr/kraut/wallenstein.htm
Opposition de Phase:
http://petit.sebastien.free.fr/wallenst.html

Netherlands:
Groove:
http://www.groove.nl/cd/1/10140.html

Spain:
La Caja de Musica:
http://www.dlsi.ua.es/~/wallenstein_blitzkrieg.html

...and, of course:
www.germanrock.de

---